Neutelings Riedijk Architects is a leading international architecture practice based in Rotterdam, the Netherlands. The office is strongly committed to excellence in design: realizing high-quality, sustainable architecture by developing powerful and innovative concepts into clear built form.
Neutelings Riedijk Architects is specialized in the design of multifunctional buildings, with an emphasis on public and cultural programs. The office stands for innovative architecture with the highest performances in sustainability. Known for its expressive and outstandingly hospitable architecture, the office has designed and built a broad range of buildings. Vibrant places that encourage social interaction, such as theatres, museums, libraries, city halls, hotels, schools, office buildings, and mixed-use facilities. Neutelings Riedijk Architects is experienced in balancing the complex functions and logistics of these projects with their often delicate and urban contexts.
We design powerful buildings with identity and beauty to give them iconic significance in the public realm.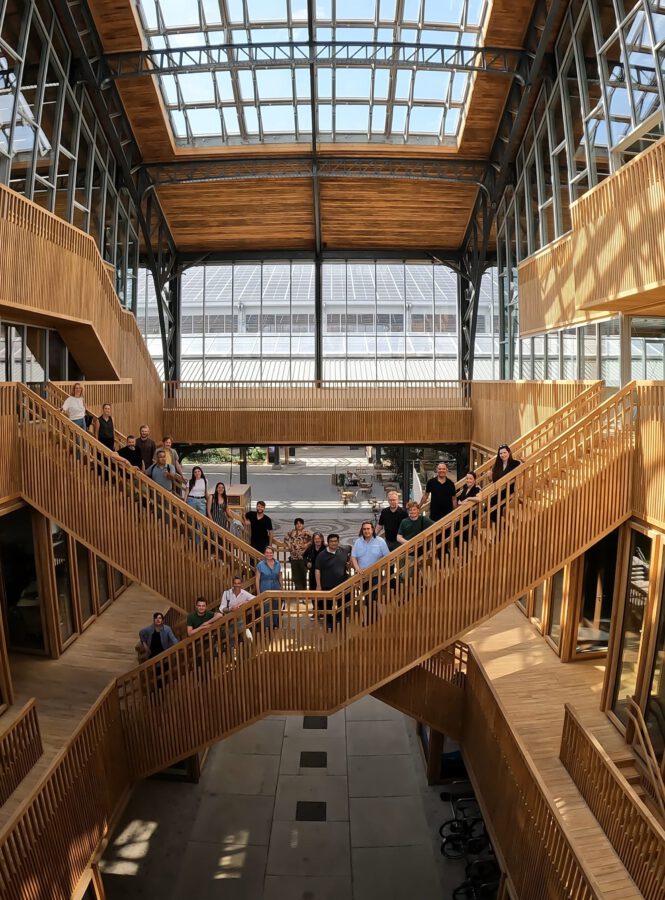 OUR AMBITIONS
Neutelings Riedijk Architects' oeuvre includes the development of new architecture as well as the reuse and renovation of existing buildings and monuments. By forging old and new into a coherent whole, we create buildings with a new story and a beauty of their own.
One of our main objectives is to achieve long-lasting quality in all of our projects, so that our work can stand the test of time. The current era demands architecture that can respond to our rapidly changing society. In close collaboration with clients, we're working on a future-oriented oeuvre. To address the urgent issue of climate change, sustainability, circular concepts, biodiversity, and the use of biobased materials are self-evident objectives in all of our projects.
In order to stimulate biodiversity, we believe it is important to integrate green and nature-based solutions in everything we build; we strive to enhance quality of life and limit the environmental impact of buildings.
We are at the forefront of innovations ever since developing our first radically innovative project, the University Building Minnaert in Utrecht in 1999.
Ornament & Identity
Architecture can be entrancing, sometimes truly moving, even evocative. Refined detailing and sensorial richness are key in our work.
We aim for maximalism: we want every component of a building to have expression and ultimately, perhaps, meaning.
We always try to find a form of expression that is self-explanatory and compatible with the assignment, the location, and the public realm. We believe that contemporary ornamentation results in buildings that create new local identities in a globalized world, buildings that establish a lasting connection with the public and their specific place in the city.
We often collaborate with visual artists and graphic designers. Their integrated works of art, created uniquely for the specific context, add an extra layer of meaning to our projects. An illustrative example is City Hall Deventer. In cooperation with artist Loes ten Anscher we incorporated 2,300 different fingerprints, supplied by Deventer's citizens, in the façade. The prominent visual presence of these aluminum fingerprints emphasizes the public significance of every citizen and pays tribute to the city's collective life. We have worked with leading artists such as fashion designer Iris van Herpen (Naturalis Biodiversity Center) and graphic designer Jaap Drupsteen (Institute for Sound and Vision).
Team & Design Process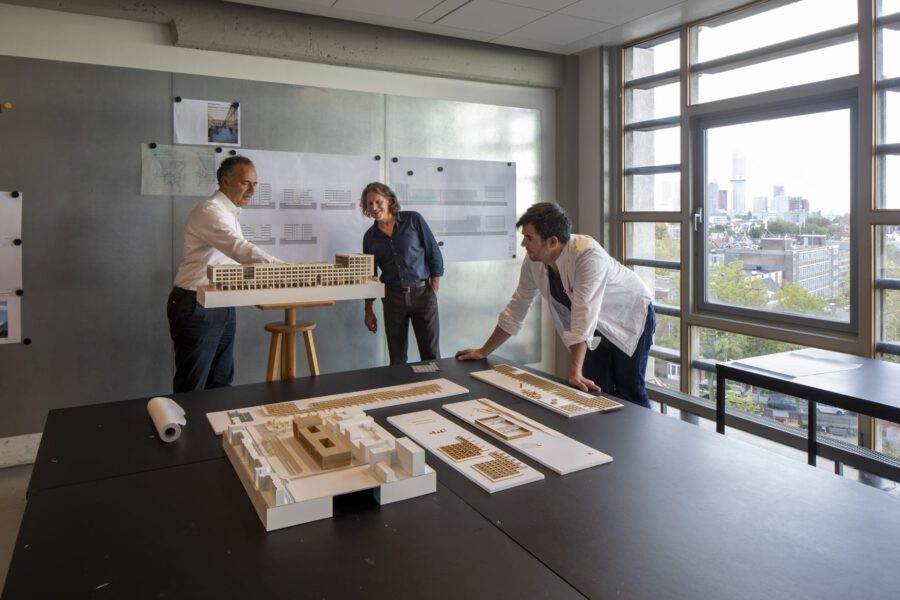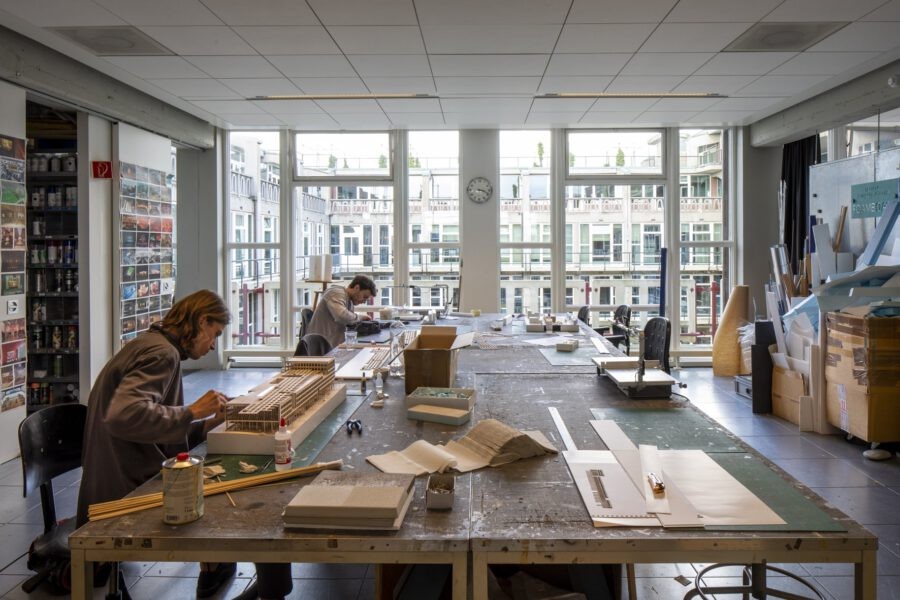 Neutelings Riedijk Architects was founded in 1987 by Willem Jan Neutelings and Michiel Riedijk. Since 2020 the office is led by founding partner and principal architect Michiel Riedijk and managing director Carl Meeusen. The office consists of an international team of talented, highly educated and motivated architects, urbanists, and designers, working in an open atelier structure on a variety of projects.
A customized team is formed for each project, eventually supplemented with external expertise, to create an inspiring design environment with a diversity of knowledge fields, plenty of dialogue, and open communication. We work closely with experts in the field of sustainability, engineering, arts, interior design, and landscape architecture. For our international projects the workforce at our office in Rotterdam is complemented by technical expertise through our associations with local partners specialized in architectural engineering, cost calculation, and site supervision. This arrangement allows us to put together a team that is qualified to meet the specific requirements of every project and have a strong connection with the local building practice.
A thorough design process, attuned to the existing context, is able to generate a design that gives expression and meaning to the ideal values of the client
The size of our offices and the streamlined design process in our atelier makes it possible to handle large-scale commissions, nationally and internationally, while ensuring the personal involvement of our leading staff from the beginning to the end of every project. We often work in processes with many stakeholders and parties, and we consider it an important task to take the lead in these processes in order to jointly achieve an optimal result.
Awards & Publications & Exhibitions
The work of Neutelings Riedijk Architects has gained worldwide appreciation through numerous international publications, awards, and exhibitions. In 2017, Michiel Riedijk received the prestigious recognition of International Fellow of the RIBA.
Neutelings Riedijk Architects has received oeuvre awards like the BNA Kubus and the Belgian Building Award. Furthermore, the office has been a finalist for the Mies van der Rohe Award several times, and received awards such as the MIPIM Special Jury Prize, the Dutch Building of the Year, the Abe Bonnemaprijs, and the Rotterdam Maaskant Prize – just to mention a few. The work has been exhibited in many places, including Paris, New York, Los Angeles, Venice, Beijing, São Paulo, and Barcelona in solo exhibitions and internationally renowned exhibitions like the biennale of Venice. Work by Neutelings Riedijk Architects has been acquired by various museal and archival collections, such as the Centre Pompidou in Paris and the Archive of Het Nieuwe Instituut in Rotterdam.
In its monograph series, El Croquis has published the work of Neutelings Riedijk Architects in two issues (no. 94 and no. 159). The most recent publication by Neutelings Riedijk Architects is Ornament & Identity (2018).