New commission: Lorentz Leiden Phase 2 is starting up
Last week the municipality of Leiden signed the agreement with ABC Planontwikkeling to develop Lorentz Leiden Phase 2 and complete the design by Neutelings Riedijk Architects with the 3rd tower. The office tower meets the current and future demand for flexible workspace and thus contributes to the transformation of the station area into a vibrant place for living, working, traveling and a pleasant place to stay.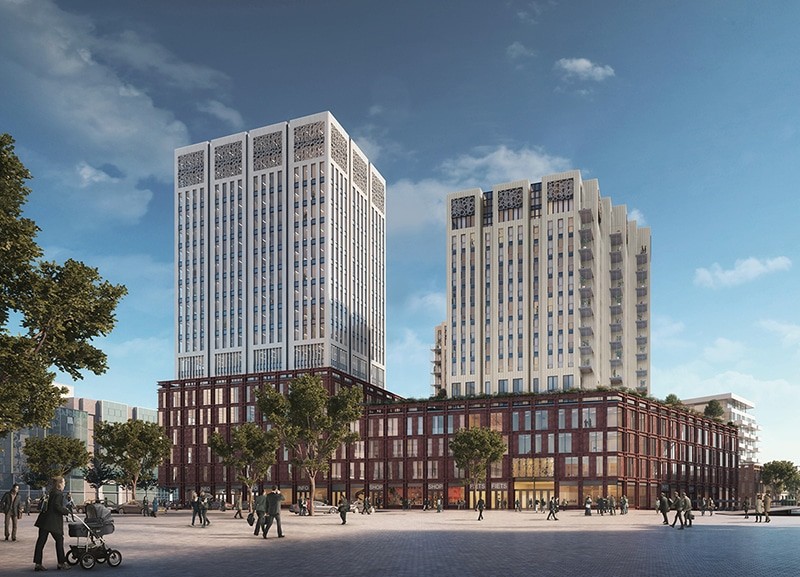 Lorentz Leiden connects the relatively small-scaled historic city center of Leiden with the larger-scaled new developments surrounding the station. At the same time, the project creates an attractive urban space and a worthy entrance to the city.
The building consists of three bright, and slightly glossy, towers of different height and color on top of a five-layered plinth. The two apartment towers and commercial plinth building of phase 1- also including the new Heineken headquarters and Heineken Experience – will be completed this month. The involved team members of phase 2 are pleased that the adjacent development can immediately follow.
ABC Planontwikkeling will realize Lorentz Phase 2 in a sustainable way, which means that the building will no longer contain a car parking garage and energy can be generated on the roof. Phase 1 already provides the largest public bicycle parking in Leiden. Altogether, Lorentz Leiden fits in perfectly with the ambition to realize the most sustainable kilometer of the Netherlands in the Leiden station area.
Program: 17.500 m2 office units | Expected start of construction: medio 2021 |
Team: Neutelings Riedijk Architects / ABC Planontwikkeling / Traject adviseurs en managers / Bouw 21