Future-Proof Design for 'Huis van Stad en Regio' Dordrecht
Neutelings Riedijk Architects is one of four studios that were commissioned by the municipality of Dordrecht to design the new City Hall and Library 'Huis van Stad en Regio'. In March the architects will present their plan to the professional jury.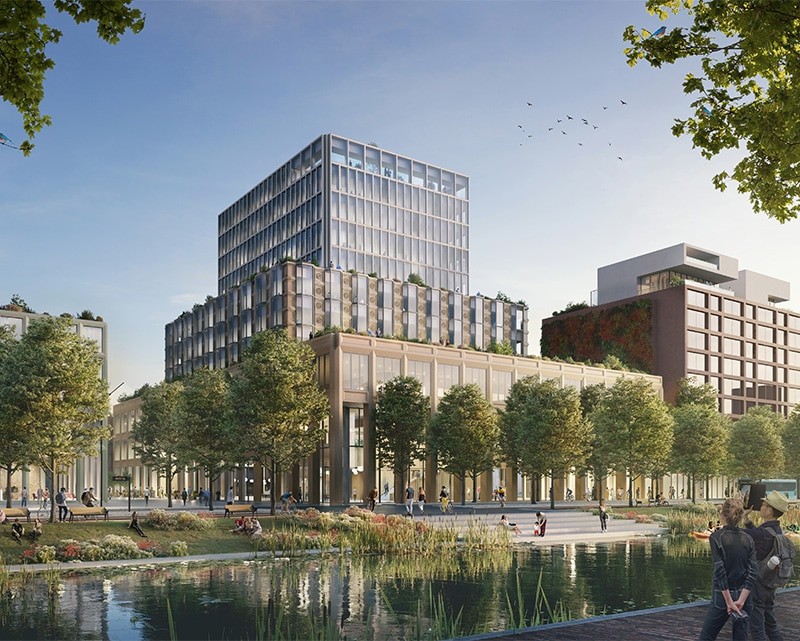 Green connecting route
Neutelings Riedijk Architects designed the new 'Huis van Stad en Regio' as a compact urban volume that refers to a stack of three Dordrecht houses, connected by an attractive green public route through the building. The result is a service-oriented public building that adapts itself to the local, urban and regional context. With green urban spaces which will enhance the microclimate and biodiversity, the iconic building will give a great impulse to the Spuiboulevard.
Sustainable approach by re-use
The building's expression connects with both the historic character and the sustainable ambitions of Dordrecht. In participation with residents and users, a new facade stone will be developed in a circular way by re-using materials of the existing buildings on the site.
Lively & healthy working environment
The 'Huis van Stad en Regio' will be a home that suits everyone, with various living and working atmospheres, varying from lively to quiet and from collective to individual. It offers a natural and pleasant meeting place and a healthy working environment.
February 1 – 9, the four plans are exhibited in SpuiLAB Dordrecht. All visitors are encouraged to give their opinion.
Exhibition Info:
SpuiLAB, Spuiboulevard 210, Dordrecht
1 – 9 Feb
Mon – Sun 12.00 – 17.00
Thu 12.00 – 20.00